Early Oral Cancer Detection
Oral Health update:
Unfortunately, one person dies every hour of every day from Oral Cancer in America! There are 34,000 new cases reported annually with only a 52%, five-year survival rate!
This particular disease is not only on the rise but the #2 killer globally and #6 domestically. Previously, oral cancer was predominantly confined to 40 and over individuals who smoke and consume alcohol. However, it is now being found in young adults at an alarming rate recently. Experts surmise that this is due impart to exposure to a particular strain of the Human Papilloma Virus (HPV), which is also the primary precursor to cervical cancer. To put it in proper perspective, oral cancer occurs at a 3:1 ratio to cervical cancer!
Over the years, we (R.S.G. Dental Healthcare), have always conducted a comprehensive head/neck and intraoral visual examination on all patients at every recall appointment. The good news is we have recently incorporated a state-of-the-art, non-invasive oral cancer screening technology (VELscope) in the form of a safe, high-energy blue light ("Auto- Fluorescence"). It gives us the capability to reveal subclinical abnormalities on or below oral mucosal surfaces, previously undetectable to the naked eye under normal light!! According to a study in September/October 2008issue of "General Dentistry", oral HPV can be detected using the VELscope. Healthy cells will fluoresce back and appear green in color while damaged or unhealthy cells will not fluoresce but appear as black or dark maroon areas.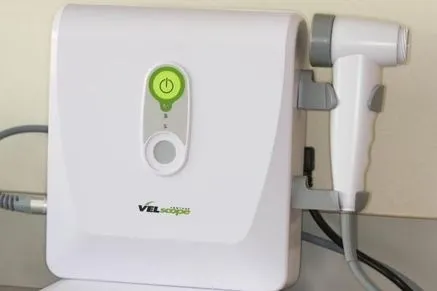 With EARLY detection, the survival rate for oral cancer is very high (80-90%). This technology enables us the opportunity commitment to prevent life-threatening diseases and preserve "Quality of Life"! Our goal is to provide our patients with the best oral health care available.
Early detection=High survival rate
It is strongly suggested that screening is done as early as age 18 and every 6-12 months pending risk factors. This non-invasive screening system takes but a few minutes at a fee of $95.00 which may be covered by your dental/medical insurance.